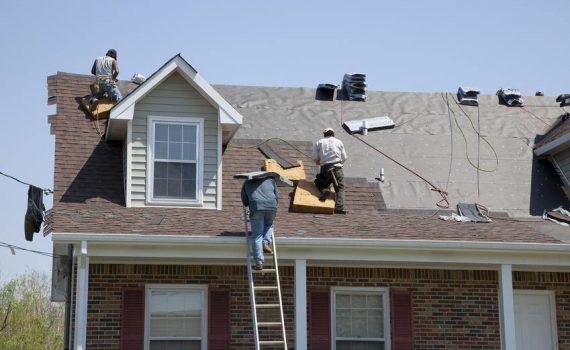 Your Neighborhoodz LLC flagship services include roofing, fencing, and seamless gutter installation in San Antonio. An advantage to choosing Your Neighborhoodz for these services is that we provide a full-exterior option. When choosing to be your own general contractor, enlisting multiple companies for these services, costs are often increased due to doubling or even tripling prep work. In addition, if services are not performed in proper sequence, extra work is then necessary to protect projects already completed. Scheduling and coordinating multiple contracting crews can be time-consuming and problematic. Let Your Neighborhoodz LLC take care of the juggling for you, by providing you a full-service exterior restoration option.
Many contractors choose only the highest profit work and will perform projects in improper sequence; taking advantage of homeowners, who often do not have the experience or knowledge to know the difference. In the case of insurance claims, many contractors just wish to replace your roof, as this is the highest ticket item. Nine times out of ten, roof replacements should be done last. New shingles are soft and highly susceptible to scuffing and scarring. New roofs need time to settle. Performing other work after a roof installation causes unavoidable wear, or necessitates costly measures to protect the new shingles. Your Neighborhoodz LLC can work through your entire claim with you, ensuring that work progresses in a suitable sequence, protecting your investment and ensuring a higher quality final product.
For example, gutters should ALWAYS go on before a new roof. Removal of gutters inevitably causes damage to drip flashing and wear to new shingles. Often when gutters are removed, it reveals sections of rotted fascia. Repairing fascia rot also causes wear to new shingles; and damage to, or even requires the removal of, drip flashing. Removal and replacement of gutter before roof installation allows for fascia repairs to be done before drip flashing is installed. 'Flashing in' gutters, or installing drip flashing after gutters, helps to prevent water from going behind the gutter and rotting fascia. This is a higher quality installation, aiding in the prevention of future unnecessary repairs.
Seamless gutters are light years ahead of piecing together gutter. Piecemeal gutters are low in performance, and high in leaks. The cost difference for seamless gutters is slight, and the value added is exponential. Professional seamless gutter installers can create a high-quality system that diverts water away from your foundation and other crucial areas of your buildings; such as, landscaping, sections where water will settle against the foundation or siding, and areas with minimal grading. If your building has spike-style gutters, more than likely you have fascia rot, and should get your gutters replaced and fascia repaired at your earliest opportunity. Furthermore, no matter what people advertise, there is no such thing as gutters that don't have maintenance. All gutters will require some type of maintenance. Your Neighborhoodz LLC performs gutter replacement, repairs, and maintenance in San Antonio.
Our third flagship service is fence replacement, repair, and maintenance. In general, we recommend wood privacy fencing. Wood privacy fencing is the most economical in terms of maintenance and cost over time. A well-built wood fence will last 12-15 years, depending on weather and maintenance. We offer six feet pickets, posts set at 18–24", and a three-rail system that aids in the prevention of warping, bowing, or twisting. We also offer staining as a protective measure, or to simply add to the beauty of your wood fence. Chain link fencing is a cheaper option, with quicker installation time, but doesn't allow for privacy. Maintenance tends to be lower for chain link fencing, but it is necessary to keep vines, trees, and other landscaping from growing into and intertwining with the fencing. Wrought iron and stone are more expensive fencing options. A widespread myth is that these fencing options have no maintenance. Wrought iron fencing requires costly spot, prime, and repainting. Also, exposure to water causes the steel to deteriorate and rust through. Stone fencing requires pressure washing; and shifting inevitably occurs, causing cracks that should be repaired promptly to maintain the integrity of the walls. A common mistake in stone fencing is not establishing a firm foundation. A stone fence requires that each step be done meticulously, or the walls will be weak.